peter le cochon wrote:

And where is Jack?

Haaaaaa me voilà !
Deux jours entiers de récupération …
Pas tant causes de la soirée mais pour celleS du lendemain samedi
Où des occupations différentes et personnelles m'ont pris mon temps et TOUTE mon énergie .. jusqu'à très tôt le dimanche …pfttttt
Mise à part çà tout baigne …
Donc et, …et bien hhéhéhé Quelle SOIREE !
J'ai bien vu que sur ce thread, avait commencé la discussion …
J'ai un peu voulu laisser aller volontairement vos commentaires
Pour prendre du recul et synthétiser constructivement, de manière à
aller au delà … 2 ? 3 ?4 ? …
Oui, on s'est bien tous amusés ..
et le principe de marier 3D et TV est excellent !
Evidemment il faut que la technique suive .. serveur bxx et serveur blog video, çà l'a bien fait à ce niveau et comme le dit ALAIN merci à eux !
ET SURTOUT MERCI A VOUS TOUS DE VOS CREATIONS .
J'ai beau ne pas etre un novice sur les univers, j'en découvre tous les jours des nouveaux aspects, de nouvelles merveilles … vous êtes vraiment tous des Magiciens !
Maintenant c'est de mon coté qu'il me semble essentiel d'optimiser
1 / question matériels
2/ question animatif
3/ question organisation
4/ question déploiement
Déjà l'un des aspects primordial c'est question animatif …
Comme vous l'avez constaté je ne suis pas très doué pour l'anglais ..
Alors … Wanted - recherche d'un animateur ou une animatrice bi-Lingue.. pour co-animer le bazar.. Question technique, on devrait pouvoir avoir sur la TV les deux vignettes des animateurs même à distance l'un de l'autre …
Ca ferait prendre une autre dimension pour ces Voyages au travers des Mondes … Non ?
Sinon, question matériels je réfléchi également à des moyens plus conséquents concernant mon matériel informatique et vidéos
à suivre ….
question déploiement : vous le savez je présente en réel mes animations et mon spectacle c'est pour l'instant ce qui me fait vivre …( financièrement un peu et Emotionnellement beaucoup …)
Je prépare donc d'autres sujets pour la TV, des directs de ces spectacles, d'autres jeux, d'autres interviews, d'autres thèmes qui, vous vous en doutez, seront d'une manière ou d'une autre liès à la magie de la 3D … déjà je peux vous annoncer que je serai (pour les français ) à St Julien en Genevois en Savoie le 12 mars prochain et le 20 mai à Mantes la Jolie 78 (region parisienne)
Mais je profite de ce thread pour vous renouveler ma demande : Soyez attentifs à tout les endroits, salles, villes, manifestations, Festivals où je pourrais me produire et n'hésiter pas à m'en informer ou mieux encore …de vous faire mes meilleurs correspondants auprès d'eux !!!
Donc ..OUI il faut un N° 2 à cette soirée !!!!!!!!
Quand, ? comment, ? cela reste à organiser …
Je le voudrai encore plus interactif
peut-etre un Quizz Sportif dans les Mondes ?
Tous sur une ligne de départ …. Un buzzer 3D avec des questions
Et les réponses à obtenir dans différents Mondes puis retour au Buzzer !
Enfin faut voir de toute manière ce ne sont pas les idées qui manquent.
Pour répondre à des questions plus précises
Notamment les vidéos
Bein lààà Grrrrrrrrr
BIGS
Problêmes …
elles ont mystérieusement disparues
Je vois çà avec Blog Video
Relire le Chat ??? les moments rigolos ?
Bein là aussi PB il aurait fallu que l'on soit sur le meme chat pour la visite de tout les Mondes donc actuellement ces archives de Chat sont disséminées sur tout les bxx visités. On pourrait quand même essayer ici d'en faire une compil
Sinon pour le Chat de la TV il faut que je demande à Blog Video s'ils ont prévu ce type de fonctions …
Autres choses, et pour répondre à Peter, c'est vrai il faut que l'on prenne en considération le timing des différends fuseaux horaires et faire la jonction avec tout les pays.
Mais comment ? une animation non stop sur 24 h ?
Possible mais envoyez moi des vitamines IOI
ou alors et vu le défi ( que j'aime) j'ai ma petite idée pour me donner des respirations ..
(le temps de boire un coup ou de fumer un clop…IOI )
Bon alors on pose une date ? IOI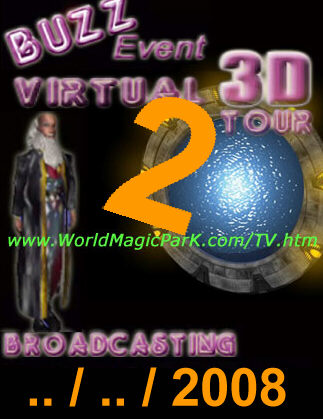 ~~~~~~~~~~~~~~~~~~~~~~~~~~~~~~~~~~~~~~~~~~~~
Haaaaaa here me is!
Two days whole of recovery …
Not so much causes of the evening but for celleS of the following day Saturday
Where different and personal occupations took to me my time and ALL my energy. until very early Sunday …pfttttt
Put besides that all bathes …
Therefore and, …and well hhéhéhé What a EVENING!
I saw well that on this thread, the discussion had started …
I a little wanted to let voluntarily go your comments
To take retreat and to synthesize constructivement, so as to go to beyond …2? 3?4? …
Yes, one had fun all.
and the principle of marrying 3D and TV is excellent!
Obviously one needs that the technique follows. waiter bxx and waiter video blog, that A well done for this level and like ALAIN says it thank you to them!
AND ESPECIALLY THANK YOU A YOU ALL FOR YOUR CREATIONS.
I am not a beginner in vain on the universes, I discover every day of them of the new aspects, of new wonders …you are really all of the Magicians!
Maintaining it is of my with dimensions that it seems essential to to me to optimize
1 / materials question
2 / question animatif
3 / organization question
4 / deployment question
Already one of the aspects paramount it is question animatif …
As you noted I am not very gifted for English.
Then …Wanted - search for an organizer or stimulating bilingual. Co-to animate the bazaar. Technical question, one should be able to have on the TV the two labels of the organizers even remote one of the other …
Would Ca make take another dimension for these Voyages through Worlds …Not?
If not, materials question I considered also with more consequent means concerning my computer equipement and vidéos
to follow ….
deployment question: you know it I present in reality my animations and my spectacle it is for the moment what makes me live …(financially a little and Emotionnellement much …)
I thus prepare other subjects for the TV, of direct of these spectacles, other plays, other interviews, other topics which, you suspect it, will be in one way or another liès to the magic of the 3D …already I can announce to you that I will be (for French) with St Julien in Genevois in Savoy on next 12 March and on May 20 in Mantes La Jolie 78 (Paris area)
But I benefit from this thread to renew you my request: Be attentive in all the places, rooms, cities, demonstrations, Festivals where I could produce me and not to hesitate not with me to inform some or still …to better do my best correspondents near them to you!!!
Therefore..OUI one needs N °2 for this evening!!!!!!!!
When? how? that remains to be organized …
I will want it still more interactive
perhaps Sporting Quizz in the Worlds?
All on a starting line …. A buzzer 3D with questions
And answers to obtain in various Worlds then return to Buzzer!
Finally is necessary to see in fact in any case the ideas miss.
To answer more precise questions
In particular vidéos
Bein lààà Grrrrrrrrr BIGS Problêmes …
they mysteriously disappeared
I see that with Blog Video
To read again the Cat??? funny moments?
Bein there too PB it would have been necessary that one is on the same cat for the visit of all the Worlds thus currently these files of Cat are disseminated on all the visited bxx. One could nevertheless try here to make a compil of it
If not for the Cat of the TV it is necessary that I ask Blog Video if they envisaged this type of functions …
Other things, and to answer Peter, it is true one needs that one takes into account the timing of the disagreements time zones and to make the junction with all the country.
But how? an animation not stop on 24 H?
Possible but send to me vitamins IOI
or then and considering the challenge (which I like) I have my small idea to give myself breathings.
(time to drink a blow or to smoke a clopIOI …)